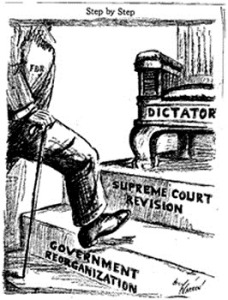 How did we get here? How did America so tragically betray its sacred promise to the world as a beacon of freedom symbolized by Lady Liberty standing proudly, holding her lamp aloft and beckoning the world to come to her majestic shores? To come to America for economic freedom, religious liberty: Give me your tired, your poor, Your huddled masses yearning to breathe free …
How did America become in essence a post-constitutional republic?
The author of this cartoon ("Warren") titled, "Step by Step," appeared in the Buffalo News on Feb. 11, 1937, and obviously felt that President Roosevelt, at the time, was on his way to dictatorship with the way he was running the policies and government. Was Warren and the judgment of history right? Was President Franklin Delano Roosevelt a dictator?
Click here to read the article at World Net Daily
Category: Uncategorized