About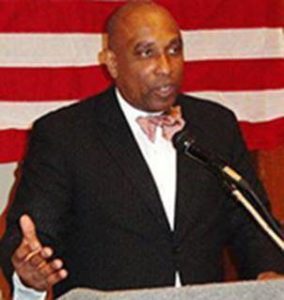 Ellis Washington, since his intellectual apotheosis embracing a Conservative and 'America First' worldview (Christmas Day, 1982), has been a Blacklisted Black Intellectual in America—his promising academic career all but destroyed by the Marxist Academy and liberal hegemony through invidious discrimination, nevertheless his Credo—Lex iniusta non est lex—'An unjust law is no law at all,' and his Manifesto chronicles his existential struggles against Liberal Fascism that continues to this day for me, and against hundreds of thousands of other minority academics who reject Globalism, Progressivism, Liberal Fascism, and Socialism Slavery in all of its surreptitious guises. *N.B.: See biographical essays Birth of a Conservative Intellectual, Part 1 and Birth of a Conservative Intellectual, Part 2.
Washington is a graduate of DePauw University (B.M., Education/History, 1983); University of Michigan (M.M., Music Performance [French horn], 1986; John Marshall Law School (J.D., 1994); Post-graduate studies at Harvard (Musicology, Law, 1988-89) and Michigan State University (History, 2004). Washington is a former Staff Editor at the Michigan Law Review (1989), Law Clerk at the Sixty-Plus Elder Law Clinic (1991), and Law Clerk at The Rutherford Institute (1992). Presently he is an Adjunct Professor of Law at the National Paralegal College and the National Juris University, where he has taught courses in—Constitutional Law, Legal Ethics, Contracts, Property, Administrative Law, American History, Advanced Legal Writing, and in many other subjects.
A founding board member of Salt and Light Global, LLC (2014), a Christian-based legal/education organization dedicated to protecting First Amendment Religious Liberty, Washington was a co-host on Joshua's Trial, a radio show of Christian conservative thought (2010-16). A prolific writer on numerous disciplines, his latest law review articles include: Nigger Manifesto: Institutional, Intellectual and Ideological Racism inside the American Academy, "UnNatural Law of Justice Oliver Wendell Holmes" (—forthcoming, Faulkner Law Review, Fall 2017) and Social Darwinism in Nazi Family and Inheritance Law." Washington has written 10 books where many of his writings have been accepted in the Chambers Library of the Supreme Court including his latest opus is a 5-Volume collection of over 1,200 essays, articles, monographs, law review manuscripts, and Socratic dialogues – THE PROGRESSIVE REVOLUTION, Vols. I-V: 2009-16 Writings —History of Liberal Fascism through the Ages,  (University Press of America, 2009-16). Visit his Law & History blog, EllisWashingtonReport.com), an essential repository of history, legal history, politics, philosophy, critical theory, and literary classics dedicated to educating future generations of 'America First' Nationalists, young Conservative intellectuals and Critical Thinkers of every ideological spectrum. Contact Ellis at his email: elliswash1@aol.com, at his Twitter @EllisWashington , and at his Facebook page.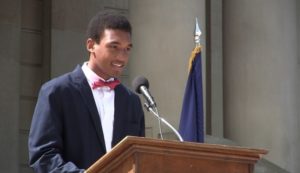 Stone Washington is the son of Ellis Washington and the Website Administrator and Managing Editor for Ellis Washington Report. Stone is a Junior History Major at Clemson University, in Clemson, South Carolina, home of the 2016 College Football National Champions. Stone is a five-year alumnus of Envision Leadership Conferences, an exclusive program built around inviting the most accomplished students from across the World and establishing America's next generation of leaders through academic programs designed to foster a readiness in multiple sectors of society, including: politics, law, business, medicine, and economics. The many Conferences Stone attended include: The Jr. National Young Leaders Conference held in Washington D.C, The National Young Leaders Conference held in Washington D.C, The National Youth Leadership Forum on Law and CSI held in Washington D.C, Intensive Law and Trial held at Stanford University, and The Global Young Leaders Conference held in Washington D.C and New York City. All of Stone's articles can be found under the Socrates Corner section of the website, and often offer a critical analysis on prominent works of classical literature and its correlations to American history and politics. Some of Stone's most popular articles include: 1915-2015-100th Anniversary of Booker T. Washington, Atlas Shrugged, America Slouched – The Galt/Trump Revolution, and Justice Clarence Thomas, Generation Z, and Me. Friend him on his Facebook page, also Twitter @StoneWashington and Instagram. Contact Stone at his email: Stonebone20@att.net.