About

Ellis Washington is a former Staff Editor of the Michigan Law Review (1989), a Law Clerk at Sixty-Plus Elder Law Clinic (1991) and The Rutherford Institute (1992). Presently he is an Adjunct Professor at the National Paralegal College where he teaches Constitutional Law, Legal Ethics, Administrative Law, Contracts, Advanced Legal Research & Writing. A founding board member of Salt and Light Global, LLC, Washington is a co-host of Joshua's Trial, a radio show of Christian conservative thought. A graduate of DePauw University (1983), University of Michigan (1986) and John Marshall Law School (1994) he did post-grad studies in History and Law at Harvard GSAS, Harvard Law School, and Michigan State University. Ellis is the founder and Editor-in-Chief for Ellis Washington Report.
A prolific scholar, Washington has written over two dozen law review articles and 10 books. His latest law review article is titled, Social Darwinism in Nazi Family and Inheritance Law. Washington's latest book is a comprehensive collection of 230 essays and Socratic dialogues –The Progressive Revolution: Liberal Fascism through the Ages, Vol. 5. (University Press of America, 2016). Visit his popular law/political blog, EllisWashingtonReport.com, an essential repository dedicated to educating the next generation of young conservative intellectuals to understand and venerate Natural Law—the original philosophy and jurisprudence of America's constitutional Framers. Contact Ellis at his email: elliswash1@aol.com and friend him at his Facebook page.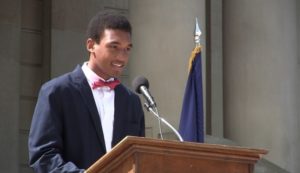 Stone Washington is the son of Ellis Washington and the Website Administrator and Managing Editor for Ellis Washington Report. Stone is a Junior History Major at Clemson University in Clemson, South Carolina. Friend him on his Facebook page, also Twitter @StoneWashington and Instagram. Contact Stone at his email: Stonebone20@att.net.