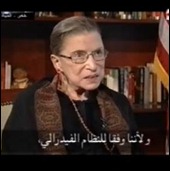 U.S. Supreme Court Justice Ruth Bader Ginsburg visited Cairo, Egypt, in late January for four days of discussions with judges, law school faculty, law school students and legal experts to "listen and learn." While there she suggested Egyptian revolutionaries not use the U.S. Constitution as a model post-Arab Spring. Ginsburg words were spoken with the full understanding that Egyptian military officials were preparing to send to trial 19 American democracy and rights workers (including Sam LaHood, son of Ray LaHood, Obama's secretary of transportation).
Click here to read the article at World Net Daily
Link to this page
Link to this page
Copy the code below to your web site.
Category: WND Commentary