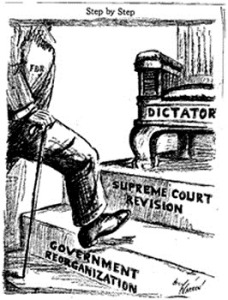 How did we get here? How did America so tragically betray its sacred promise to the world as a beacon of freedom symbolized by Lady Liberty standing proudly, holding her lamp aloft and beckoning the world to come to her majestic shores? To come to America for economic freedom, religious liberty: Give me your tired, your poor, Your huddled masses yearning to breathe free …
How did America become in essence a post-constitutional republic?
The author of this cartoon ("Warren") titled, "Step by Step," appeared in the Buffalo News on Feb. 11, 1937, and obviously felt that President Roosevelt, at the time, was on his way to dictatorship with the way he was running the policies and government. Was Warren and the judgment of history right? Was President Franklin Delano Roosevelt a dictator?
Click here to read the article at World Net Daily
Copy the code below to your web site.
Category: WND Commentary
Ellis Washington is former editor of the Michigan Law Review and law clerk at The Rutherford Institute. He hosts a radio program Thursdays at 11 a.m. Eastern on 1620 AM in Atlanta. It can be heard online at the Radio Sandy Springs website. His weekly podcasts are available Mondays at The Conservative Beacon. Washington is a graduate of John Marshall Law School and a lecturer and freelance writer on constitutional law, legal history and critical race theory. He has written over a dozen law review articles and several books, including "The Inseparability of Law and Morality: The Constitution, Natural Law and the Rule of Law" (2002). Washington's latest book is "The Nuremberg Trials: Last Tragedy of the Holocaust."
Copy the code below to your web site.